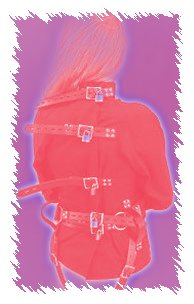 The Modelling Session
By Miss Vicky
"Right, Mary, I've got your first modelling assignment." That was the welcome news that greeted Mary when she arrived at Mr. Moore's Modelling Agency. She had been reluctant to sign up with them, as they were scarcely among the leading agencies, but modelling is a tough field to break into and there didn't seem to be a queue of other people clamouring for her services. Still, she was only 19, and time was surely on her side.
"Now Mary," explained Mr. Moore, beaming at her in an avuncular fashion over the top of his glasses, "Mr. Anatol is one of our best customers. He's a designer of exclusive party wear. That's costumes that ultra-rich people wear at private parties. He wants someone to model something he's making and he specifies someone with lots of curves. Should be a nice job for a newcomer like yourself, and you certainly meet his requirements. You'll like him; he has his eccentricities, but he's a gentleman."
Mary blushed at his comments, but it was quite true. Unlike so many very thin models, she had a bust and hips that attracted plenty of ogling and even wolf whistles as she walked down the street. Add in her genuinely blonde hair and blue eyes, and she looked every inch the glamour model that she wanted to be.
"OK, when do I start?" she asked, trying to hide her excitement and nervousness behind a veneer of nonchalance.
"Mr. Anatol is always in a hurry," smiled Mr. Moore. "I'll call a taxi for you."
This was a bit sudden, but Mary didn't want to muck up her first assignment, so she thanked him and went to wait for the taxi. Soon, she was on her way to Mr. Anatol's offices in a smart modern building.
Mary's nerves nearly got the better of her as she stepped into the foyer, her feet sinking into the carpet as she stepped over to the marble reception desk where a large and imposing gentleman frowned at her. However, when she explained that she had an appointment with Mr. Anatol, he smiled and somehow put her at her ease. He sent her up to the 15th floor, and Mr. Anatol was there to meet her as she stepped out of the lift. He was a tall, handsome, broad-shouldered man in a smart suit. His black hair was just starting to go grey.
When he saw her, his face lit up in welcome, and he grabbed her firmly by the hand. "Greetings, Mary. Moore's surpassed himself. You're just what I'm looking for," he gushed. Mary was very pleased to be on the good side of an important client.
Ushering Mary in, Mr. Anatol went straight to the point. "I'm designing this jacket for a party. It's a little unconventional, but so is my client - and of course I can't give names," he explained. The jacket was on a hanger on a coatstand. It was made of black leather. It looked normal enough, except that the sleeves had some straps attached.
"Now, Mary, would you mind going behind that curtain, stripping off to your panties, and then come out so we can try the jacket on," he said. Mary was only momentarily taken aback. Of course, as a model she would expect a bit of nudity. It seemed a bit pointless to go behind a curtain to strip off if she then had to come out, but she had no objection.
When she emerged, she could see Mr. Anatol's brown eyes appraising her. She happily struck a pose. She was rightly proud of her firm young body, and pleased to have an appreciative audience. As directed, she stood on an upside down bucket.
Mr. Anatol helped her into the jacket. She immediately discovered that the sleeves were closed at the ends, so that her hands were trapped. The leather at the ends was very stiff, and her fingers could not bend it. "How is anyone supposed to do anything wearing this jacket," she asked Mr. Anatol.
"Ah, you've obviously never been to that sort of party," he replied cryptically as he fastened the jacket at the front. "Now let's see to your arms." Stepping behind her, he got her to fold her arms behind her back. He fiddled with the straps, and pushed her elbows towards each other. By the time he had finished, each wrist was firmly strapped to the opposite arm just above the elbow, and Mary's arms were immovably and inescapably fixed behind her back. It was not very comfortable, but Mary accepted it with resignation as part of the assignment. She could not move very much, because she was frightened of falling off the bucket. Particularly with her arms strapped behind her, she could be badly hurt, falling onto the uncarpeted floor.
"Now, if you'll just stand very straight with your legs together," said Mr. Anatol from behind her. When Mary complied, he put straps round her thighs, legs and ankles. He buckled them tight, pressing her legs together. "What do you think so far?" he asked.
The gag was a surprise. He slipped it into her mouth as soon as she opened it to reply. There was a long, flat object that protruded into her mouth. It was covered in spikes on its underside, so that Mary could not move her tongue. He quickly tightened a strap, holding it firmly in her mouth. Mary was sure that under agency rules, models couldn't be gagged without their permission, but she was in no position to discuss it.
The blindfold was another surprise. It was on an elastic strap, so Mr. Anatol could put it on very quickly. Heavily padded, it shut out every trace of light.
Mr. Anatol undid the front of the jacket. "Now Mary, you'll find that even with the jacket undone, you are still completely unable to move your arms." He was completely correct there! He fiddled with the shoulders. "Indeed, as you see, the whole jacket comes away leaving just the sleeves. Actually, you can't see - never mind."
There was yet another surprise as Mary felt him cut off her panties and pull them away.
And now Mr. Anatol's hands were very busy all over Mary's exposed and helpless body. She hoped that Mr. Moore had been telling the truth when he said that Mr. Anatol was a gentleman.
End